CloudOn for iPad
Category:
Productivity
Developer:
CloudOn
Compatibility:
Compatible with iPad. Requires iOS 4.2 or later.
Age Rating: 4+
Free
---
Available on the App Store
Buy
App Guide
If you're looking to edit documents across multiple gadgets, but you're frustrated by the limitations of Apple's ecosystem, CloudOn could be what you're searching for.
The integration between iCloud and iWork on the iPad is pretty slick if you're editing files on the run. But the fact it doesn't sync documents to your Mac is frustrating.
Meanwhile, online file-sync services such as Dropbox play nicely with desktops and handheld gadgets. But unfortunately there's no simple way to edit Dropbox files using your iPad and then drop them back into Dropbox. It's a restriction of iOS, as Android has no trouble with this trick. Thankfully CloudOn is designed to perform this file editing trick on the iPad.
CloudOn is an Office suite for the iPad which can edit Word, Excel and PowerPoint files as well as view PDFs. (It won't handle iWork files.)
Its word processor is a rather busy-looking Word clone which offers a surprising number of formatting options including styles, layout, edit tracking, word count, references, spell check and grammar check. You'll find a few features that are lacking in Apple's Pages, but the trade-off is that the CloudOn interface isn't as elegant.
But CloudOn's most impressive trick is that it can edit Office files directly from your Dropbox, Google Drive or Box online storage account. This lets you open compatible files, edit them and save them straight back into that online service, where they can be synced to other mobile devices and desktop computers.
You can also create new Office documents using CloudOn and save them online. If you're an iPad owner and frustrated Dropbox user, this could be what you're looking for.
Google Docs users enjoy the same CloudOn functionality as Dropbox users, but they'll be disappointed that they can't edit their Google Docs documents using CloudOn.
If you open a Google Docs file in CloudOn and make changes, a copy is saved into Google Docs as an Office file while
the original Google Docs file remains unchanged. This new Office file will be read-only in the Google Docs browser-based word processor.
You can, however, sync that new Office file down to your Mac or Windows machine using the new Google Drive service. Once the Office file is on your desktop you can edit it with your desktop word processor or edit it in CloudOn, but not in the Google Docs online word processor.
So, to cut a long story short, CloudOn lets you use Google Drive like Dropbox but you can't have the best of both worlds and edit the same file in both CloudOn and the Google Docs online word processor. It's still more flexibility than you'll get from iWork and iCloud.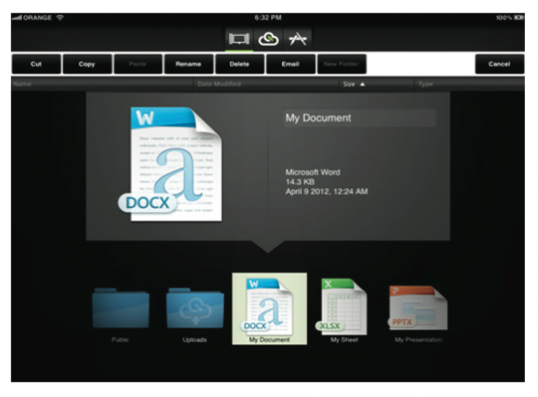 One hurdle is that CloudOn is only available in the US iTunes store for now, so you'll need to wrangle yourself a US iTunes account (which isn't hard) to install CloudOn.
Macworld Australia's buying advice
If you're happily using iWork and iCloud you might not see the need for CloudOn, but if you're frustrated by their limitations then CloudOn could be just what you're looking for.