App Guide
Back in the early days of personal computing, the promise of interactive, multimedia, hypertext books was exciting, notably with Voyager's Expanded Books. But in those days, the limits of technology prevented those 'books' from gaining a foothold. You could have links and unlimited text content, but the size of videos was just slightly larger than a postage stamp and audio codecs weren't as advanced as they are today. Also, you had to read them on a computer screen, with the limited resolutions of the time.
The iPad offers such powerful features – and excellent resolution – that truly enhanced books are possible. Here are six apps for the iPad that have popped up in recent years that look at great literature, paying homage to fantastic works while adding new layers.
Literature from Shakespeare
Let's start with the Bard of Avon, Will Shakespeare. Both poet and playwright are represented with excellent apps. Touch Press's $17.99 The Sonnets by William Shakespeare is a perfect example of what's possible in an enhanced book. Not only do you get the text itself and notes from the Arden Shakespeare edition, but you also get videos of actors and Shakespeare specialists reading all 154 sonnets. There's a facsimile of the 1609 Quarto edition of the poems, and plenty of background information to help you understand them.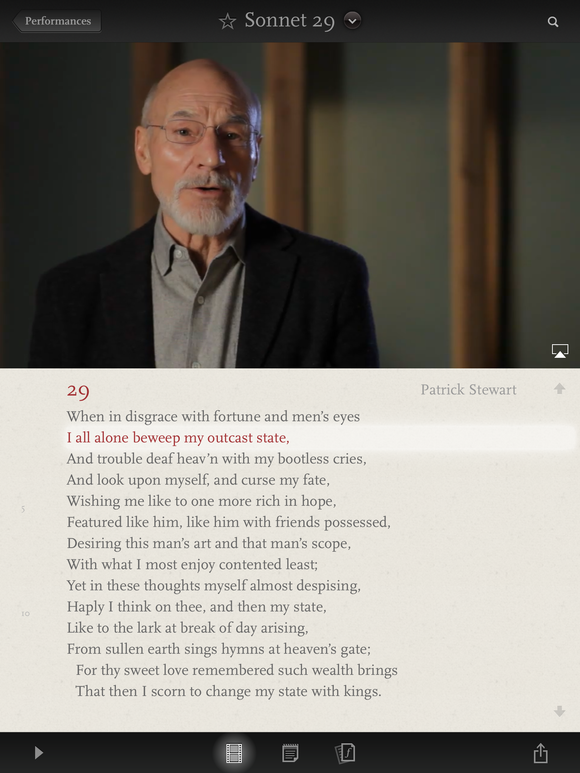 Discover videos of actors reading all of Shakespeare's sonnets.
If you want the plays, PlayShakespeare.com's free Shakespeare and $12.99 Shakespeare Pro give you all 41 plays (this includes a few that may not be by Shakespeare), and the long poems, as well as the sonnets. These apps are mostly about the texts, but there's no better collection of Shakespeare's works for iOS.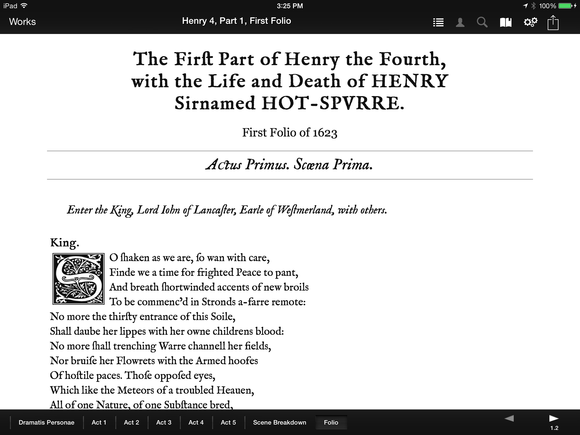 If you like to read Shakespeare in the original spelling, you can do so with this app.
The pro version contains loads of extra features, such as texts in the original spelling, a tap-and-click glossary of words you may not be familiar with, and the ability to add notes and bookmarks. If you're a Bardophile, it's worth the money. (Both of these apps are also iPhone compatible.)
Literature from James Joyce
James Joyce is another author whose works lend themselves to this approach. Naxos' $10.99 Joyce's Ulysses: A Guide unlocks the doors to that reputedly difficult classic novel. With a full text, replete with hundreds of annotations, and plenty of background information, you can dive into Ulysses with no fear of getting lost. There's information about Joyce's life, the music in the book, a brief recording of Joyce reading from it, and even an abridged audiobook of Ulysses (the full version is too costly to be included in the app).
I wish the app had a map of Dublin, showing the peregrinations of the two main characters, but there's enough background information to shepherd you through the novel. If you've put off reading Ulysses because of its difficult reputation, you'll find this app may help you take the plunge.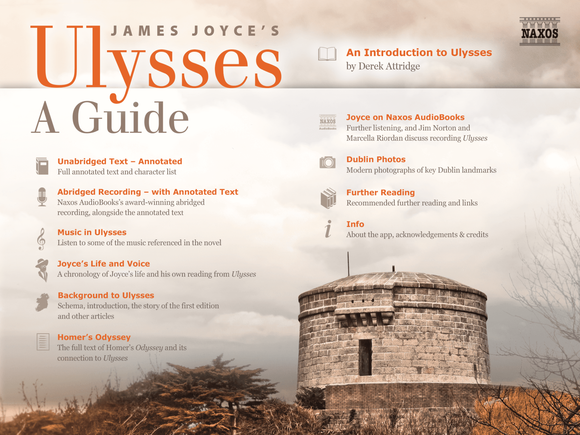 Discover the world of Ulysses with this app: Full text, readings and annotations.
Another James Joyce story, The Dead, is the subject of another app, this one free: James Joyce—The Dead, by the University College Dublin. This app presents the classic story, which ends Joyce's book Dubliners, with the full text of the story, an excellent audio version read by actor Barry McGovern, photos of Dublin at the time, more than an hour of audio commentary from a number of academics and links to resources to help you explore the story further.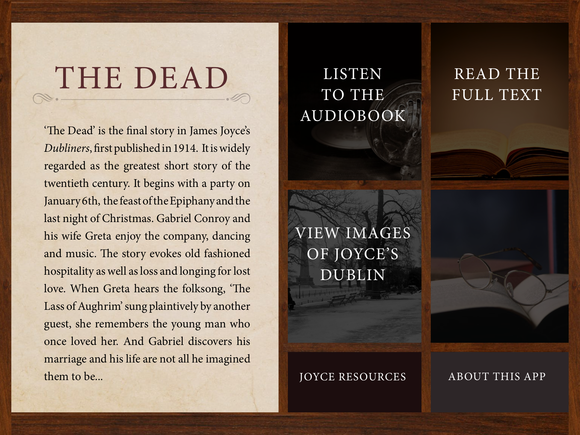 Take a close look at James Joyce's story The Dead.
The interface isn't fancy, and I'd like to be able to change the font size. But it's a great, free resource about one of Joyce's finest stories.
Literature from Eliot an Kerouac
One of the great modernist poems by T. S. Eliot is brought alive in the $17.99 Touch Press app The Waste Land. Not only does it offer the text and extensive annotations, but there's a filmed performance of the poem by actress Fiona Shaw, two readings by the author (from 1933 and 1947), readings by actors (including Viggo Mortensen and Alec Guinness), and, as is to be expected, a full range of commentary, in 45 videos by authors, actors and editors. There are also photos of the entire original manuscript with Ezra Pound's edits.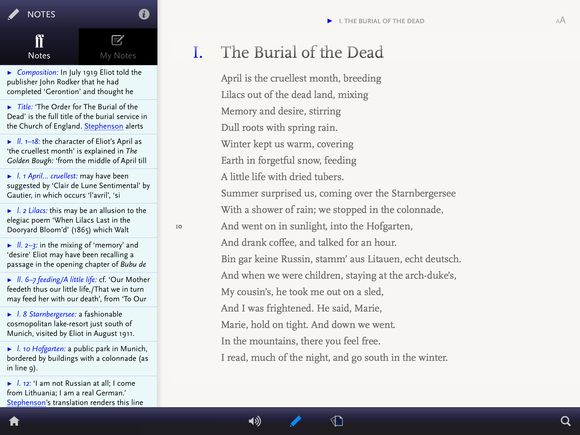 Go line-by-line with The Waste Land, by T.S. Eliot.
Finally, closer to the present is Penguin Books' $21.99 "amplified edition" of Jack Kerouac's On the Road, which takes you on a journey inside that iconic novel of the Beat Generation. The book tells the tale of Sal Paradise and his friends traveling across the United States. As Kerouac said, "Nothing behind me, everything ahead of me, as is ever so on the road." This app shows you their route, tells you about the real-life people who are models for characters, contains some readings by Kerouac, and, of course, the entire text with annotations. This is a great novel, and an excellent way to get more deeply into it.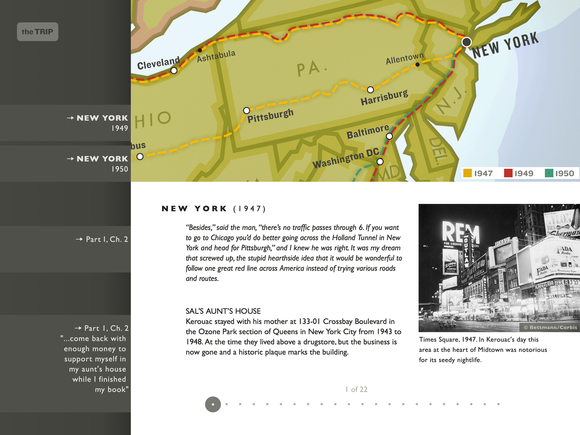 Go on the road with Jack Kerouac and his friends.
While all of these apps are great, it's important to realise that they may not last. If the developers and publishers don't keep them updated for future versions of iOS, they'll go the way of the early CD-Roms. For now, these apps are wonderful ways to discover great literary works; let's hope we can use them in ten years time.